Headed up to NYST Saturday night and camped with Cass and Dexter so i wasn't rushed in the morning.
Did a day before bike prep. Change oil, clean/lube chain/ brake/clutch fluid change, and put new rearsets on the bike.
Safe and sound at the track awaiting the next morning!
First time setting up our new Northface backpacking tent too.. Single pole design went up in about 5 minutes. not bad for a little over 2lbs!
Slept pretty horrible with this little guy crawling to the bottom of my sleeping bag and licking my toes. Then climbing up and licking my face. It was his first camping experience so I couldn't blame hime for being a little restless.
Pit'ed right next to this awesome Arpilia!
Was over 90 out! Had to switch helmets a couple times to say cool and dry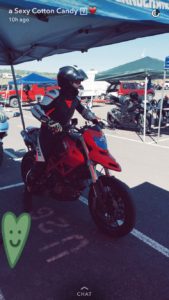 Had i think 8 or 9 from the 607 crew there that day
on the second session of the day I took corner 4 and hit my rearsets, it stood my bike up and I took it into the grass until i laid it down. Not much damage at all, bent rearset and a cracked headlight the frame sliders did their job. Just wish I was wearing the GoPro when it happened.
Here are a few shots from the rest of the day.
Hot tarmac melting my Q3's
Make back in one piece.